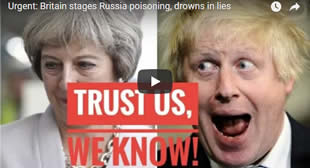 If you were running for the presidency of a country, and about to host a major international event – would you poison a defector, who many years earlier was in your possession, with a toxic substance that leads right back to you?
It seems the Russian cookie monster always leaves a convenient cookie crumb trail – or so the Western audience is led to believe.
All symptoms of a provocation are clear.
---
| | | |
| --- | --- | --- |
| Urgent: Britain stages Russia poisoning, drowns in lies | Russian Pundits: The UK Only Understands Strength, It is Time For Putin to Hit Back | Turns Out "Novichkov" Isn't a Russian Chemical Weapon… The UK Lied Through Its Teeth |
| | | |
.


Atkinson: "Trump and Putin have more in common than divides them"

.


'No proof' Sergei Skripal ill in hospital: Russian Ambassador Alexander Yakovenko

.


George Galloway delivers bombastic blast on Sergei Skripal
---
Furthermore, "Novichok" is not a widely known substance in Russia itself – it was developed by a chemist who moved to the US and published a book on his development. Make sure you watch until the end to see the briefing on the Skripal case by the Russian Ministry of Foreign Affairs.
The British side refuses to provide a sample of the nerve agent used in Salisbury to the Russian side – because, in order to prove a substance, one must be able to match it to an existing "control standard", ie the country must have the formula.
Where it's truly unknown, the Convention on the Prohibition of Chemical Weapons states that where a country suspects another of the use in chemical weapons – it must approach the side in question, provide a sample, and expect a response within 10 days. Britain, however, disregards international law and relies instead on public emotion and hysteria. The only sane Brit, it seems, is Jeremy Corbyn, who is heckled in parliament for his balanced approach.
In March 2018, Sergei Skripal and his daughter were found unconscious in Britain's Salisbury. Skripal is a former Russian intelligence officer, who for the cost of a Spanish holiday home, and a couple hundred thousand one-off payments of the MI6, betrayed Russia.
He was sentenced to 13 years in prison, but in 2010, together with 3 others, was pardoned by the Russian president and exchanged for 10 other intel workers. Since then Skripal continued to live in Britain and work for the MI6. Much like the case of Litvinenko – international law has little to do with the investigation, all that matters are headlines.
Be wary of what you read!