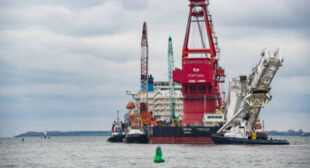 Despite all the pressure and sanctions imposed by Washington, the construction of the project is coming to its conclusion, as the first leg of the pipeline had been completed, Russian President Vladimir Putin announced earlier this month.
Ukrainian President Volodymyr Zelenskyy stated that Kiev will continue its fight against Nord Stream 2 regardless of the stance of European countries on the project.
Nord Stream 2 is a 745-mile-long pipeline that is now more than 95 percent complete and it is currently being prepared to be tested for launch. The pipeline is expected to be able to carry up to 1.9 trillion cubic feet of gas per year from Russia directly to Germany under the Baltic Sea, passing through Danish, Finnish, and Swedish waters.