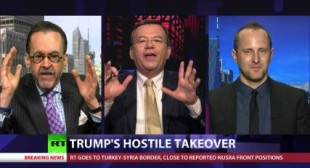 American presidential election politics is a cross between a talent show and a beauty contest. Being smart and coherent does not necessarily pay dividends.
Case in point: Donald Trump and Hillary Clinton. Both are front-runners of their parties. Trump is idiosyncratic and raw; Clinton the ultimate establishment insider. Is this a choice, or merely bad theater?
CrossTalking with Brandon Andrews, David Paul Kuhn, and Lionel.