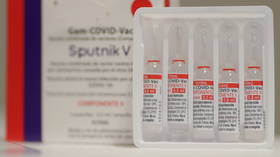 About 60% of Germans would like to get vaccinated with the Russian-made Sputnik V vaccine if they were presented with such an opportunity, a fresh poll has shown.
The survey, conducted by the pollster Forsa, was commissioned by the German Eastern Business Association, a group focusing on economic cooperation between Germany and countries located in Central, Eastern and Southeastern Europe, as well as in the South Caucasus and in Central Asia.
The results of the poll, which was conducted among 1,001 respondents between April 29 and May 10, were published by the group on Wednesday. The survey has shown high levels of trust among German residents towards Russia, with the majority of respondents being welcoming towards joint economic projects with Russian enterprises.