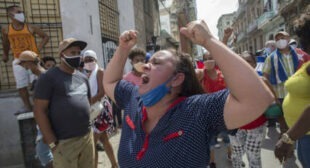 US corporate media are having a field day over public protests in Cuba that are being hailed as a revolt against the island's communist government.
The protests are said to have been prompted by economic hardship which has been aggravated by the Covid-19 pandemic. Scarcely mentioned by the Western media is the proverbial elephant in the room. That is, Cuba has endured nearly 60 years of unremitting economic sanctions imposed on it by the US.
Can we please just focus on that vital background to the story and get our heads around the fact that the American government is a criminally hostile and lawless entity. The Caribbean country has been throttled and strangulated for over half a century by over a dozen American presidents whose malign conduct is no better than that of crime bosses.