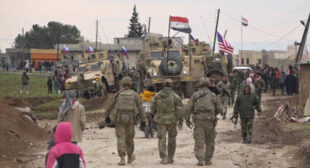 Damascus and its allies have repeatedly blasted the US over their illegal occupation of Syrian territory in the country's south and northeast, and have demanded that all foreign military forces not explicitly invited into the country by the Syrian government vacate the Middle Eastern nation immediately, in accordance with international law.
The Russian Embassy in Washington has reminded the US that its troops have no legal mandate to be in Syria.
The reminder comes following the publication of the quarterly report to Congress by the Pentagon, the State Department and the US Agency for International Development on the state of the US-led coalition's operations in the Syrian Arab Republic.