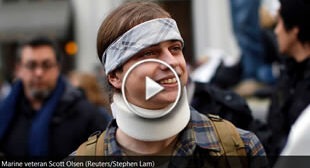 €‹A United States military veteran who was critically injured by the police during an Occupy Wall Street protest in October 2011 will be awarded $4.5 million by the city of Oakland, California.
Attorneys for the man, 26-year-old Scott Olsen, said on Friday this week that city officials have agreed on a multi-million dollar settlement that will resolve a federal lawsuit filed after the Oct. 25, 2011 incident.
Olsen was with around 1,000 other demonstrators that evening who had decided to protest the local police department's recent clearing of Occupy activists from an encampment they established in a city park. During a march through downtown, Olsen was hit in the head with a non-lethal projectile fired by an unknown police officer and quickly admitted to an area hospital in critical condition where he was diagnosed with a fractured skill, broken neck vertebrae and swelling of the brain.
The marine served two tours in Iraq between 2006 and 2010, and then joined the group Iraq Veterans Against the War. He was employed as a systems administrator in the San Francisco Bay area at the time of the 2011 protest.
The incident occurred less than five weeks after the Occupy movement started on the other side of the country in New York City's Zuccotti Park, and was among several similar incidents that solidified focus on one of many issues the group for the most part rallied against: the excessive use of force by ever increasingly militarized police forces across the country.
"It's heartbreaking, especially to think that this young man went overseas twice and came back in one piece to a country in shambles," fellow vet and anti-war activist Matthis Chiroux told RT in 2011. "He goes out into the streets, he's got a job he's got a house, but he goes out to stand with the 99 percent and he's the first one brutalized."
One of Olsen's attorneys, Jim Chanin, told the San Francisco Chronicle on Friday that it's "a very sad day, not only for Scott, who's going to have to start his life all over, but for the city of Oakland, which has been hit with yet another unnecessary lawsuit with a very large settlement that could have been used for the public good while Scott went on with his life, without his injury."
Speaking to Democracy Now! this week, Olsen said, "It has been a very stressful experience having to deal with it. So, for that reason alone, I'm happy that it's over."
Olsen said legal proceedings were close to approaching the two-and-a-half year mark, and he expected his case would have taken upwards of another 24 months if lawyers for Oakland attempted to fight in court.
"And yeah, part of me does wish we had gone to trial, but this is what's going to work out for me better, I think, and hopefully for pushing forward for change in Oakland police policy," Olsen said.
City attorney Barbara Parker added to the Chronicle that Oakland will spend $1.4 million to fulfill the terms of the settlement, while the addition three-million-plus will be provided by the city's insurance policy.
"Mr. Olsen suffered a tragic injury that will affect him for the rest of his life," Parker said. "This settlement will save the city the far greater costs of a trial and potentially much higher judgment. This is a fair settlement given the facts of the case and the significant injuries Mr. Olsen sustained."