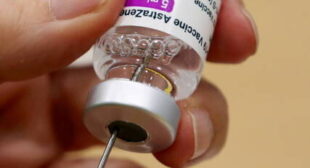 While waiting for the final decision on the controversial vaccine, Norway has decided to distribute its stock of AstraZeneca to fellow Nordic countries that actually want to use them despite the associated risks.
Norwegians run a greater risk of dying from being inoculated with AstraZeneca's vaccine than from COVID-19, the National Institute of Public Health (FHI) concluded in its analysis, recommending the vaccine, previously linked to serious complications in the form of rare blood clotting and haemorrhage amid low platelet counts.
Abstaining from the vaccine could possibly prevent up to 10 deaths related to side effects, the FHI said, according to the newspaper Verdens Gang.
So far, Norway has seen five cases of serious incidents reported shortly after vaccination, with three fatalities. FHI has calculated the mortality rate from the AstraZeneca vaccine as 2.3 people per 100,000 vaccinated.