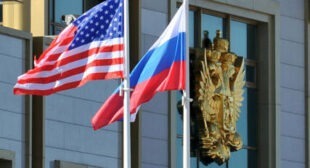 Russian Deputy Foreign Minister Sergei Ryabkov has notified Bartle Gorman, the deputy head of mission at the US Embassy in Moscow, of changes in the procedure for the entry of US diplomatic staffers, the Russian Foreign Ministry stated Monday.
Moscow has informed the US about the next steps Russia is taking in order to address the hostile actions by America.
"On 26 April, Russian Deputy Foreign Minister Ryabkov held a meeting with US charge d'affaires in the Russian Federation Gorman. They discussed some pressing bilateral issues", an official statement read.