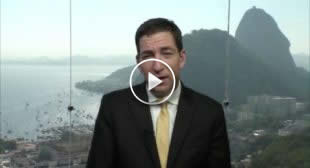 Questions surrounding Hillary Clinton and the Clinton Foundation continue to grow. On Sunday, Democratic National Committee interim chairperson Donna Brazile defended Clinton's meetings as secretary of state with Clinton Foundation donors, saying, "When Republicans meet with their donors, with their supporters, their activists, they call it a meeting.
When Democrats do that, they call it a conflict." Donna Brazile's comments come in response to an Associated Press investigation revealing that while Hillary Clinton served as secretary of state, more than half of the private citizens she met with during the reporting period had donated to the Clinton Foundation.
The AP investigation comes after a three-year battle to gain access to State Department calendars. The analysis shows that at least 85 of 154 people Hillary Clinton had scheduled phone or in-person meetings with were foundation donors. We speak to Pulitzer Prize-winning journalist Glenn Greenwald of The Intercept. His most recent piece is headlined "Why Did the Saudi Regime and Other Gulf Tyrannies Donate Millions to the Clinton Foundation?