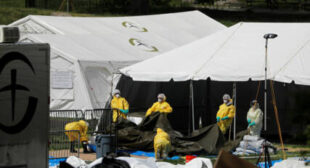 The global death toll from the pandemic is nearing 280,000, with the United States and Great Britain topping the list of the worst-hit countries.
At the same time, China has reported a plunge in new cases of the infection and no fatalities from the virus over the last several weeks.
There are over 4,000,000 confirmed cases of coronavirus globally, according to Johns Hopkins University. At least 1.3 million of them are registered in the United States, while the UK, Spain, and Italy have over 200,000 infected. New York remains the worst-hit city in the world, with 183,000 cases and almost 20,000 fatalities from COVID-19.