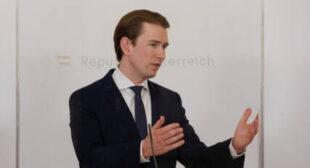 MOSCOW – Austrian Chancellor Sebastian Kurz says he is ready to get vaccinated with the Russian Sputnik V coronavirus vaccine or the Chinese vaccine, if they are approved by the EU.
"Yes [I am ready to get vaccinated], if the vaccines [Russia's and China's] are approved in Europe," Kurz said in an interview with the German Welt am Sonntag newspaper.
The chancellor said that Austria was ready to organize production of Russian or Chinese vaccines, as well as coronavirus vaccines from any other country, provided they get EU approval.