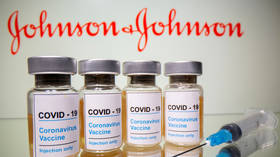 Australia has declined to purchase a vaccine made by Johnson & Johnson, because its mechanism is similar to the one used in AstraZeneca's jab. Both vaccines are currently being investigated for links to blood clots.
The Johnson & Johnson (J&J) vaccine is "an adenovirus vaccine, the same type of vaccine as the AstraZeneca vaccine," a spokesperson for Australian Health Minister Greg Hunt said in a statement.
The spokesperson said the government "does not intend to purchase any further adenovirus vaccines at this time." Hunt himself later confirmed to reporters that the government's vaccine advisory body will not be recommending the purchase of J&J shots.