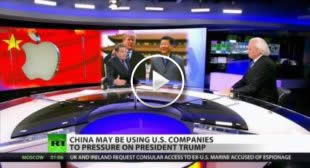 Rick Sanchez takes a look at China's response to the Trump Administration tariffs imposed on Beijing, as US telecom giant Apple losses 64 billion dollars of its value. Apple CEO Tim Cook blames the tit-for-tat and the Trump administration's trade war with China.
Is Apple blameless, or is this a show of force as Apple falls third in the market behind Samsung and Huawei? Host of Boom Bust Bart Chilton provides his take as there is no indication this far that trade war has yielded benefits.
---
| | | |
| --- | --- | --- |
| Apple sides with China against Trump | Dr. Richard D Wolff – Socialism In America | Prof. Richard Wolff Believes Extreme Poverty in America is only Going To Get Worse |
| | | |
| | | |
| --- | --- | --- |
| Canadian billionaire predicts end of US Dollar as world's reserve currency – Ned Goodman lecture | Full Show: How Reaganomics Killed America's Middle Class | Chris Hedges: Corporate Totalitarianism: The End Game |
| | | |
Dr. Richard D. Wolff – A Critic Of Capitalism. Marxist economist Richard Wolff points out many of the negative consequences of capitalist disease and offers a cure.
Democratize the Enterprise, in other words give rights and power to workers and move to a more socially responsible economy that doesn't leave over half of the people in America (The richest country in the history of the world) either poor or low income with historic levels of wealth and income inequality among other cruel and inhuman aspects of capitalism.