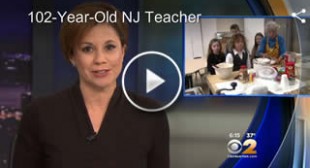 Teachers and students at one New Jersey school said they hit the jackpot with one of their teachers who's been with the school for more than 20 years.
As CBS2's Hazel Sanchez reported, they call her Granny and she's been named the oldest living and working teacher in the United States.
At 102 years old, Agnes Zhelesnik certainly doesn't act her age. "I feel like, maybe 95," she said.